The Connecting Point of Park Cities teammates load up on our wheelchair accessible bus and head over to the Dallas Museum of Art once a month for their All Access Art Program, which includes a theme-based tou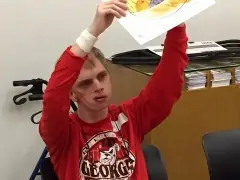 r of the gallery and an art class, designed just for them. The DMA provides a set of trained volunteers also known as, docents, that work with our teammates and give them the full ar
tistic experience. Each month a different type of art is featured. So far they have experienced a variety of artistic themes from an adaptive dance specialist who took them exploring through the Japanese culture, solving mysteries through paintings, and Modern Opulence in Vienna: The Wittgenstein Vitrine.  Each time they leave with something they have created to remember the experience, and the friendships developed.
One of the goals for the program is to build relationships with the teammates so that they feel comfortable and part of the museum community. Our conversations and activities in the gallery are open-ended and intended to spark interest, curiosity, and to help participants form pers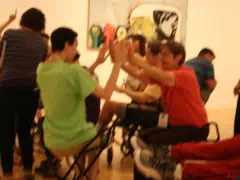 onal connections with works of art. The program allows groups the opportunity to have social experiences with one another while expanding their creativity with hands-on art making in the studio. "The program is designed to foster distinct experiences for people with special needs, our access programs create op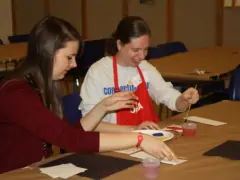 portunities for people to have transformative experiences with works of art and with one another," said Amanda Blake, the DMA's Head of Family, Access, and School Experiences. "Not only do access programs provide the benefit of learning and creativity, which are critical to cognitive function, but they also offer opportunities for socialization and stimulation, which have been proven to help improve mood and behavior as well as dramatically enhance quality of life. As a public institution and the City of Dallas's art museum, it is our pleasure and responsibility to provide engaging experiences with art to all visitors of all abilities."
The program truly allows all to be involved, no matter the type of disability.  Our teammates enjoy spending time each month at the museum and have developed relationships with the docents who work with CPPC.  The All Access program allows our teammates to thrive in an environment t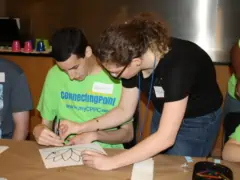 hat best meets their needs.  CPPC focuses on what our teammates CAN do instead of what they CAN'T do and this program has been an opportunity to show them all that they can do!
Interested in learning more about CPPC or volunteer opportunities?  You can visit our website at https://www.mycppc.org or contact Jamie Reynolds, Executive Director at [email protected].